ALEX-BOOKS
Currently for sale on Amazon Kindle.
http://www.amazon.com/Alex-Coutts

Look to the mountains
This book is an outdoor adventure novel most suitable for mid-teens and their parents. It is for sale on Amazon Kindle and is also under consideration for hardcopy publishing.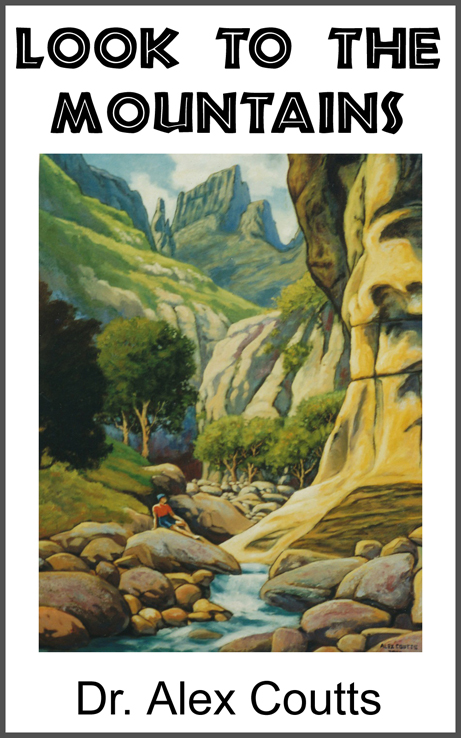 About the cover painting:
The author painted the cover picture in oils. It illustrates the daunting and rugged scenery and topography of the northern Natal Drakensberg Mountains that can become a death-trap to hikers during inclement summer or winter weather.
About this book:
The book tells of the adventures of a group of teenagers who embark on a school excursion to the Natal Drakensberg Mountains, which are subject to sometimes unpredictable and devastating storms. They must mount a daunting mountain rescue and use survival skills and techniques to save the lives of two party members.
The main character Siphiwe wishes to become a doctor and has taken a menial job in a hospital to support his family while his older brother Tulani completes the final year at school. The brothers' family expects the older boy to complete his Matriculation Certificate examination and get a job to take over Siphiwe's financial obligations, allowing the younger brother to complete the education that circumstances have forced him to delay. Tulani's frivolous nature makes this unlikely.
The excursion tears apart because of the uncompromising racist behaviour of several participants. When the leader of the expedition has a heart attack, Siphiwe uses his knowledge of first aid, resuscitation and medicine to save the stricken deputy principal's life….
The book is suitable for children of either gender, aged between 15 and 17 years, and their parents.